John C. Heenan
Bare-knuckle Boxer
John C. Heenan biography
John C. Heenan was a professional boxer who was active in the 19th century. He was born in 1833 in Troy, New York, and began his boxing career at a young age. He quickly gained a reputation as a formidable fighter and became known as the "Benicia Boy," after the California town where he spent much of his career.
Heenan's most famous fight took place in 1860 against Tom Sayers, a British boxer, in a match that was billed as the first world heavyweight championship. The fight took place in England and lasted for more than two hours, with both fighters showing tremendous endurance and skill. Despite Heenan's best efforts, the fight ended in a draw, with both fighters being declared champions.
After the fight with Sayers, Heenan continued to fight and tour throughout the United States and Europe. He faced many of the top fighters of his time, including Tom King and John Morrissey, and was known for his fierce competitive spirit and never-say-die attitude.
Heenan's career was eventually cut short by injury, and he retired from boxing in 1865. He died in 1873 at the age of 40, leaving behind a legacy as one of the most skilled and respected fighters of his era.
Pre-1870 : Fredricks
This is the oldest known boxing card. There is in fact 4 different images of john Camel Heenan used in that set. This rare relic is probably the oldest boxing card of any card type.
The four versions are
Fight Pose
Street Clothes Standing (2 versions of that pose)
Street Clothes Sitting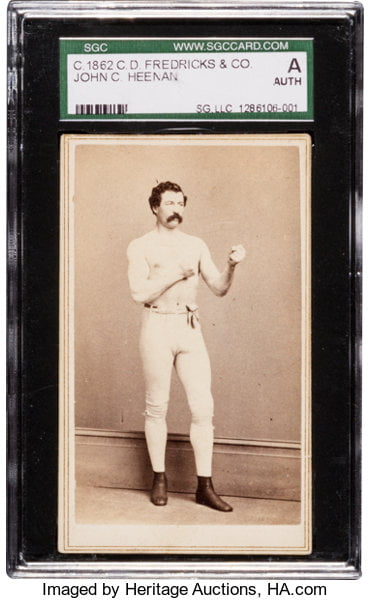 The card pictured below was sold by Heritage Auctions back in 2013. The amount of the sale was 1912$