Jack McAuliffe
Lightweight Boxer
Jack McAuliffe's biography
Jack McAuliffe was a professional boxer who was active in the late 19th and early 20th centuries. He was born in 1866 in Cork, Ireland, and began his boxing career as a lightweight fighter. McAuliffe quickly made a name for himself as a skilled and tough competitor, and he soon moved up to the featherweight division.
McAuliffe's most notable fight came in 1892, when he faced off against "Young" Griffo, a top featherweight contender from Australia. The fight was a closely contested battle, with McAuliffe ultimately emerging victorious and solidifying his status as one of the top featherweight fighters in the world.
After his win over Griffo, McAuliffe went on to defend his featherweight title several times, facing off against some of the top fighters of his era. He retired from boxing in 1906 with a record of 61 wins, 13 losses, and 2 draws. He passed away in 1937 at the age of 71, leaving behind a legacy as one of the greatest featherweight fighters in boxing history.
1886 : N167 Old Judge
One of the rarest set from the 19th Century tobacco sports related issues. Jack Mcauliffe is one of the three boxers in the set.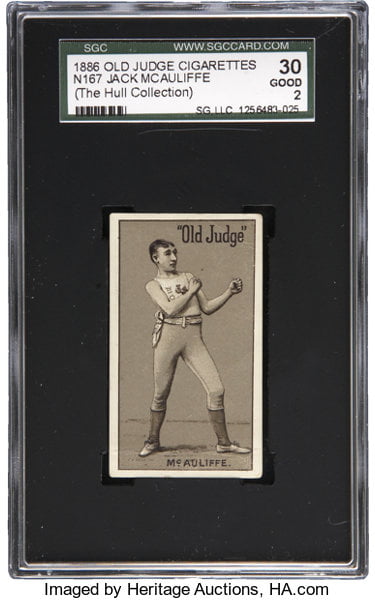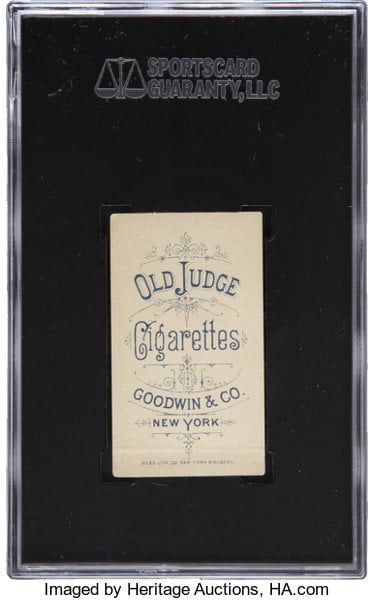 The card here was sold by Heritage Auctions in 2008 for the amount of $2629
1887 : N174 Old Judge
The 1887 N174 Old Judge boxing cards set is considered one of the earliest and most important boxing card sets in history.